Children
Childhood is an exciting, vibrant time at First Presbyterian Church! We believe that the church should be a nurturing place where children experience the love of God. Children learn what an important part of the faith community they are by taking part in Bible study, worship, fellowship, music and art, and recreation.
Children's Sunday Church School
Children's Music Ministry
Childcare at FPC
Children's Medical Release Form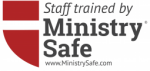 Please note that all adult volunteers who participate in our children's ministries are trained on FPC's Abuse Prevention System.
Questions about Children's Ministry?
If you have questions about Children's ministries at FPC, contact Michael Waschevski, Associate Pastor.