MOMS
MOMS (Mothers Offering Mothers Support) is a ministry of First Presbyterian Church for all mothers. Gather with other mothers for support, encouragement, Bible study, fellowship, and friendship. For working moms, stay-at-home-moms, and all moms in between! Come as your schedule allows, no need to attend every meeting or the whole meeting -- let MOMS fit your busy life. Questions? Contact Robyn Michalove.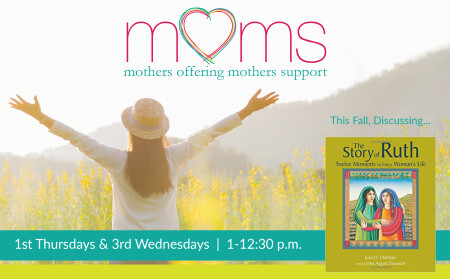 1st Thursdays and 3rd Wednesdays
11-12:30 p.m.
FPC Parlor
Lunch and Discussion
Wednesday February 21
Thursday March 1
Wednesday March 21
Thursday April 5
Wednesday April 18
Thursday May 3
Wednesday May 16
MOMS invites you to join us as we spend the fall discussing The Story of Ruth: Twelve Moments in Every Woman's Life. Copies of the book are available for $13. In addition to discussion, we'll share lunch ($7) and visit. Be sure to RSVP for each week you plan to attend, and let us know if you need childcare. Please note that childcare reservations must be made one week prior to each meeting.
Register for MOMS Meetings...