Victory Over Violence Race
TEAM FPC IS BACK!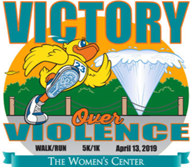 It's time to gear up for our first TEAM FPC race of the year. Once again, we'll participate in the Victory Over Violence Race benefiting the Woman's Center. The race will be April 13 in Trinity Park. There will be a 1K and 5K walk/run. The races start at 8 am. There will be more information about our meeting time and location closer to the race. Encourage your friends to join the team so they can experience the enjoyable time we all had last year.
The cost of the race is $18.00 plus $3.00 if you want a timing chip for the 5K. The last day of registration for team participation is March 27.
There is something new this year. The Wellness Committee will pay the entry fee for youth to participate as long as a church member parent is participating in the race. Below find out more information on this program.
There are two ways to sign up – either online or on a form that will be available at the Wellness table before or after the 9 and 11 a.m. church services outside the Great Hall as well as in Patty O'Brien's office. Here are the instructions for online:
Go to site: vovfw.org/register
Click team tab
Check race selection
Enter team name: TEAM FPC
Enter team captain name: Mary Kay Roberto
Fill in form with your information
Click continue
Select T-Shirt size
Enter Emergency Contact
Enter Emergency Phone Number
Click "I Agree" for waiver
Click continue
Complete credit card information
Submit
The church will purchase two signs that will be placed along the course and donate $100.00.
If you have children 17 and under, the Wellness Committee will pay their entry fee. There are two ways this can be done. If you want to register your children online, then you will pay the fee online. Then send an email to indicating that you have signed up your children (include their names). I will submit the information to finance and you'll receive a check in the mail. Alternatively, you can fill out your children's information on the entry forms we'll have at the Wellness table outside the Great Hall and we'll enter their information and pay their entry fee directly. Whatever is easier for you.
Come join us this year for these fun and healthy events!