Formula And Diapers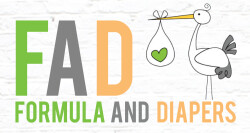 FAD (Formula And Diapers) is a new ministry of First Presbyterian Church created to help meet the needs of families with infants and toddlers. Church volunteers distribute the diapers and formula to members of our community in need at Community Crossroads on the third Monday morning of every month. If you would like to contribute to this ministry, here's how you can help:
Purchase powdered formula (Similac Advance Stage 1 Formula) or diapers of all brands and sizes and donate them at the church or at Community Crossroads
Make a check payable to Salt and Light Together, Inc. and mark it in the memo line for FAD
Pray for this ministry
Contact
If you have questions about FAD, please contact Robyn Michalove.