Pastors' Blog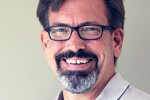 You know about the Christmas rush, but it doesn't compare to the Easter rush. At Christmas, we hurry to get it all done. At Easter, we dash right past the cross.
It's natural to hit the high points of Palm Sunday and Easter with little attention to the week between them. Life is busy, after all, and deathly serious these days, especially. So everyone needs a pick-me-up. Accentuate the positive, the old song has it. What power there is in positive thinking! It's-going-to-be-all-right is among my favorite mantras – and parenting tools.
But on this day – Wednesday of Holy Week – I'm all too aware that resurrection assumes death.
I talk with a lot of people, and they – you – share many things with me. This week, the everyday feels a bit heavier than usual. Every illness in the congregation seems all the more threatening. Every conundrum seems all the more complex. Every pain seems more poignant, every doubt seems more pronounced, and every conflict seems more intractable.
What a downer!
Someone was astounded recently when remembering that Holy Week is my favorite week of the year. Why, I was asked?
Surely, it's because Easter is about resurrection, and life, and hope, and meaning. But Easter is the diamond in an otherwise quite thorny crown, the vista apparent only after a very long climb. Easter makes no sense without experiencing the crucible through which it has been forged.
So this week – the scandals and the lies, the conflicts and the rancor, the cancers and the disappointments – this week prepares us for resurrection.
But only if we haven't rushed. Blinders might protect us from seeing the pain, but in the end, they also shield us from the light.
Take the blinders off. Avoid the Easter rush. Take your time. Pray for the ill. Visit the outcast. Admit to what keeps you back, holds you down, and sends you sideways. Tend to the news, distressing as it is. Avoid nothing. Receive life as it presents itself.
Easter's coming, and our best chance of greeting it is admitting our need for it.
See you Sunday.