Habitat for Humanity
Trinity Habitat for Humanity and First Presbyterian Church
Come build FPC's 90th Habitat House for Tarrant County Presbyterians! Sign up for a date to build at the Habitat link provided below. You can build on any of the May and June build dates below or come on June 1 for our FPC Day! Participants will receive a special FPC 90th House T-shirt.
Location: 944 E. Myrtle St., Fort Worth
Days:
May 8 (blitz build)
May 10 (blitz build)
May 11 (blitz build)
May 15 (blitz build)
May 17 (blitz build)
May 18 (blitz build)
May 31 (normal build)
FPC DAY! June 1 (summer hours) – childcare included with advance registration by May 24 for those under 7 from 7:30 am – 1:30 pm.
Please email Alyssa Martin with the name of your child and age at
June 7 (summer hours)
June 8 (summer hours)
"Summer hours" means 7:15 a.m. to 1 p.m.
"Blitz build" means 7:45 a.m.to 3 p.m.
A 30 Year & 90 House Partnership (so far)
This year marks the 30th anniversary of Trinity Habitat for Humanity (Trinity Habitat). First Presbyterian Church (FPC) has been a partner with Trinity Habitat from the beginning. FPC built our 25th and 50th houses on our parking lot and we even built a few houses at Mayfest. In May, we will celebrate the 90th house that we have partnered with Habitat to build.
Since Trinity Habitat's inception in 1989, 1,891 families have been served – 697 homes built, 1,150 Preserve a Home projects and 44 Disaster Relief projects. It is important to remember Habitat Humanity is a Hand Up, not a Hand Out, is a foundation for a better life and is community driven. Last year Trinity Habitat homes paid a total of $720,000 to the City of Fort Worth in property taxes.
There are many steps and criteria that a prospective homeowner needs to meet and agree to become a Habitat homeowner. So how does someone become a homeowner of a Habitat home?
They must first prove a need for shelter. They might live in an overcrowded situation or live in a home with structural, electric and plumbing problems, no heat, etc. They cannot already own a home.
They must demonstrate an ability to pay for the house. Habitat sells the house to them at market rates with a 30 year no interest mortgage and Habitat holds the mortgage. The average house payment is $650. The prospective homeowner must demonstrate a stable and consistent employment history for the last 12 months as well as a stable and consistent residence for also the last 12 months. They must verify their ability to make the house payments, pay utility bills and budget for maintenance and repairs. Their credit history is also reviewed.
The prospective homeowner must also show a willingness to partner with Habitat. They must commit to work 250 hours of sweat equity working alongside volunteers, sponsors, staff and other homebuyers building other homes and their house and volunteering in their new community. They go to Homeowners College where they learn about credit, budgeting, conflict resolution, city codes, home repairs, insurance etc.
This is the first a series of articles highlighting FPC's relationship with Trinity Habitat leading up to the start of our 90th House in May. If you want to learn more about Trinity Habitat, you can go to their website: https://trinityhabitat.org/ or you can attend a HabiTour at the Trinity Habitat offices where you can tour their model home. Also, watch for more information about volunteering and working on the 90th house.
Meet the Khum Family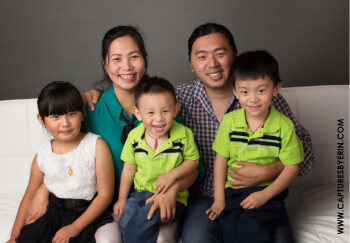 Jung Khum with his wife Hkawn Ja and their
three children, Ah Meng (5), Kang Sar (4), and Deenong Zithung (2)
"My family and I are from the country of Myanmar. We have been living in the United States for three years. Growing up in our country was hard, my family was poor and we had many needs, which is why we came to America for greener pastures. I currently live in an apartment with my family now, and we are feeling overcrowded especially our kids who do not have enough space to play. A habitat home will make a difference because it will change our attitude towards life and it will motivate us to pursue more of our dreams. Our family likes to plant so we are looking forward to having a yard to do that. We are also very involved with our church, Ruwang Christian Community Church."