Elementary Music and Arts Camp
At FPC Music & Art Camps, children will explore their artistic talents. Your young artists will sing, dance, drum, play bells and bars, and hone their visual arts skills under the tutelage of some of the finest teachers in North Texas. Be prepared for an awesome performance by your child at the end of camp!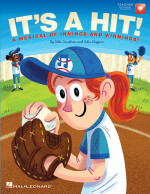 Dates: July 23 - 27
Time: 9 a.m. - 3:15 p.m.
Ages: Entering 2nd - 6th Graders
Cost: $150 per child
After Care (optional): 3:15 - 6 p.m.
After Care Cost: $100 for the week
Theme: It's a Hit!
Children will learn this fun musical of innings and winnings! A "homerun" musical by John Jacobson and John Higgins
Register for Elementary Music & Art Camp
Note: Your registration is not completed until payment is received in the church office. Thank you!