First Pres Introduces New Director of Music/Organist
November 15, 2017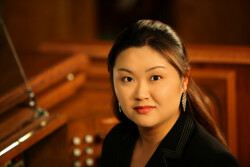 First Presbyterian Church is excited to announce that Ahreum Han Congdon has accepted the position as Director of Music/Organist.
Ahreum (pronounced ah-room) is currently the Principal Organist, Assistant Music Director, and Artist in Residence at First Presbyterian Church, Davenport, Iowa. Prior to this position she has been the organist at Saint Andrew's Episcopal Church in Stamford, Connecticut; the Marquand Chapel Organist at Yale Divinity School; the Principal Organist at First Presbyterian Church, West Chester, Pennsylvania; the Interim Organist at Swarthmore Presbyterian Church, Swarthmore, Pennsylvania; and the Organist/Choir Director at First Presbyterian Church, Trenton, New Jersey.
Ahreum has earned a Bachelor of Music in Organ Performance from Westminster Choir College, a Diploma in Organ Performance from Curtis Institute of Music, Philadelphia; and a Masters of Music in Organ from Yale School of Music/Institute of Sacred Music. She is currently pursuing a Doctor of Musical Arts in Organ at the University of Iowa, a degree for which she has completed all requirements except the final dissertation.
Coming from South Korea to Atlanta with her family at age 16, Ahreum fell in love with the ethereal sound of the organ when her mother took her to worship as a child. She is a well-known and broadly talented recitalist, and yet Ahreum remains grounded as a congregational organist. She is comfortable with a broad variety of music: classical, African American Spirituals, World Music, Taize, and historic and contemporary hymnody. She is remarkably talented, gently humble, and wonderfully mature in her understanding of the ways in which music enriches the spiritual lives of individuals and congregations both.
As the Director of Music/Organist, Ahreum will play the organ at First Presbyterian worship services, supervise the congregation's two music associates, and envision and oversee the entire music department.
Michael Waschevski will continue to conduct the Chancel and Fellowship Choirs. Ahreum will accompany the Chancel Choir and Messengers Youth Choir.
Ahreum will begin her duties Tuesday, January 16. She begins house hunting in December with her husband Todd, and they will arrive in January with their two young boys.
The Search Committee has looked for exactly the right candidate and is overwhelmed with joy by the perfect match in the congregation's needs and Ahreum's remarkable abilities. The Committee included Carol Adcock, Mary Margaret Floyd, Ken Garlington, Stephanie Sheppard, Jeff Stark, and Michael Waschevski and Karl Travis, staff.