Habitat for Humanity
Over the years, First Presbyterian Church has participated 66 local Trinity Habitat for Humanity builds! Our church generally participates with two builds a year, doing everything from framing to painting to bringing lunch to the job site. If you have questions about FPC Habitat for Humanity projects, please contact Associate Pastor of Mission and Family Ministry, Robyn Michalove.
2018 Presbyterian House Build
Presbyterian churches in the area will partner to build a Habitat for Humanity house this spring. Your help is needed!
Dates: May 1, 2, 4, 5, 8, 9, 11, 12, 18, 19
Time: 7:45 a.m. - 3 p.m.
House Address: 925 Irma Street, Fort Worth
Family: The Khum Family from Myanmar/Burma
Meet the Khum Family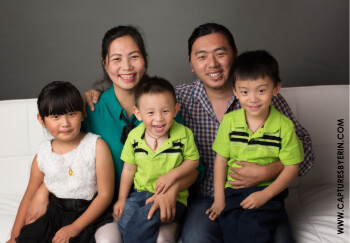 Jung Khum with his wife Hkawn Ja and their
three children, Ah Meng (5), Kang Sar (4), and Deenong Zithung (2)
"My family and I are from the country of Myanmar. We have been living in the United States for three years. Growing up in our country was hard, my family was poor and we had many needs, which is why we came to America for greener pastures. I currently live in an apartment with my family now, and we are feeling overcrowded especially our kids who do not have enough space to play. A habitat home will make a difference because it will change our attitude towards life and it will motivate us to pursue more of our dreams. Our family likes to plant so we are looking forward to having a yard to do that. We are also very involved with our church, Ruwang Christian Community Church."