FPC's 2018 Chili Cookoff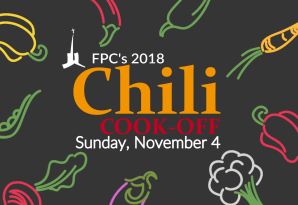 G

et those taste buds ready! The Chili Cook-Off is here again.
Sunday, November 4 following the 11 a.m. Worship Service in the 3rd Floor Concourse.
Chili, Cornbread, and Salad will be provided for the main meal.
Chili entries will be offered as taste-test samples for contest vote.
Lunch is $5 per person, $20 max per family.
Come eat and vote for your favorite chilis. Want to enter the cook-off with your favorite recipe? Signup below.
Sign up Deadline: Wednesday, October 31 We request that your chili be delivered to the 3rd floor concourse by 10:30 a.m. on Sunday, November 4 to help minimize distraction to those worshiping in the Great Hall.